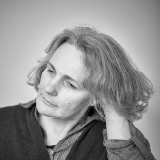 ATELIER DA CERDEIRA
KERSTIN THOMAS
Cerdeira, Lousã
LEAN ON ME
Two totally different objects, a hoe and a chair, took on a new meaning at the hands of Kerstin Thomas, a German sculptor working in wood, based in the village of Cerdeira, in the heart of Serra da Lousã. Any piece or sculpture she creates carries a message with multiple readings.
On the one hand, the hoe, an icon of manual labour on the land and of an outdoor life in constant motion, used by people lacking great wealth or privilege. On the other, the chair, a symbol of power par excellence, but also of the more sedentary lifestyle of today. It was this contrast that inspired Kerstin Thomas and led to this chair for support or a break at work, which comforts without encouraging the sedentary lifestyle.
The pieces are based on research on the different forms of hoes used from north to south of the country, with there being small differences depending on the type of farm land. They are hand-carved from chestnut and oak, native trees of the Portuguese mountains.