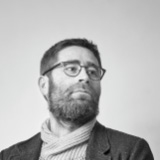 MACHADO HANDMADE
Vila do Conde
GRAFTING BOOTS
The technique of grafting used in agriculture to join two different plants, was the starting point for this boot. The piece brings back the style of traditional wooden shoes and clogs, which are in fact a "graft" of wood and leather.
The boot was made using two "grafted" techniques: first, half of the boot is pinned, like traditional clogs; for the other half, the "palmilhado" [sole] is constructed, following an old Portuguese footwear tradition which consists of making two seams. First, there is an inner seam that joins "the welt, the insole and the boot" in one go, all the way round and that seals and structures internally throughout the shoe; then there is a second seam that joins the sole to this welt.
The leather is in two shades of brown and cut to resemble oak and chestnut leaves. The boot also has a wooden peg fastener in the shape of a Portuguese guitar and traditionally used in the leather straps that secure cowbells.
The skin used is natural calf with vegetable tanning, tanned with natural tannins extracted from tree bark, widely used in making traditional Portuguese shoes and work boots. The sole incorporates rubber for more comfortable walking.