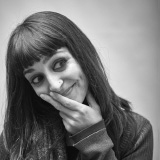 DEDAL NO DEDO
VÂNIA KOSTA
Braga
SEEDING THE EARTH ON THE BANKS OF THE RIVER ZÊZERE
Having moved away from the territory, the way Vânia Kosta found she could get closer to it was by journeying through aerial pictures that were just a click away. These real pictures of the land on the banks of the River Zêzere inspired Vânia with the designs created by the cultivated land, recalling a patchwork shawl. The straight lines drawn in the land reflected the countless gestures of sowing the fields.
Using the patchwork technique, the remnants of different cloths were joined together on a base of 100% new cotton cloth, recreating the appearance of ploughed land with linen and cotton thread. The craftswoman plunged into the earth, and marked out and sowed the fields, not with agricultural implements, but with her working tools: hands, needles and thread.
The lines and points created on the back of embroidered side also created interesting patterns, and Vânia chose to show them. Each cushion is 50 x 50 cm, and the four sides evoke the territory that we can hug. On the back is embroidered: Semeando a terra nas margens do Rio Zêzere [Sowing the land on the banks of the River Zêzere].