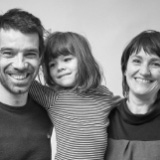 VASCO BALTAZAR / ZITA ROSA
Lisboa
LUSITUDES I | LUSITUDES II
Uneasiness is repeated cyclically. Lusitudes are based in a time when taking care of the land was an exchange. It was known that, by respecting the soil and its times, it would repay with food. It was known, that even lying fallow, it is fertile. A time that has been lost and should be reclaimed.
This attitude of re-seeking and re-processing the natural relationship in agriculture, led the potters to reflect on the tools and plants required by this symbiosis. The design of the pieces came from a search in the heart of the countryside, looking for tree branches and plants commonly used to fertilise the land.
The creators wanted to imprint this attitude of land renewal in Lusitudes, along with values and ideals. The ceramic pieces inspired by fodder plants used to nutritionally enrich soils are supported by unusual cedar wood forks, thereby combining two natural elements: sandstone and wood. They were created with mixed media and fired at 1250°C.