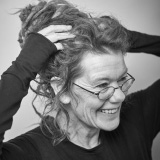 FELTROSOFIA
STEFFI KÖHNE
Benfeita, Arganil
ALL I NEED / SHELTER / EARTH PEPPERS
The scarf is an intrinsic adornment of the women from the village of Benfeita. And this craftswoman comes into contact with them every day, since she has lived in the village for several years and become part of the local community. Here, life is still governed by the rhythms of the farming tasks, by which the locals gather everything they need to survive - milk from the goats, wool from the sheep, vegetables from the garden and wood from the forest – elements mirrored in these pieces, made with bits of help as always happens in community life.
The pieces are made by a hand-felting technique with soap and water, dry felting and wet felting. In the case of this last technique, after cleaning and combing the wool is rubbed, rolled and kneaded by hand with water and soap – the fibres are joined together and compressed to create the felt and the desired shape. As for the necklace Pimentos da Terra [Earth Peppers], this is done by means of the dry felt technique using needles, which makes it possible to create three-dimensional shapes. But the process begins with the fleece of the Monte Frio alpacas, chosen by the craftswoman who knows the name of every animal involved in the production of the pieces.
All I need / A small scarf and hat. Alpaca wool, merino wool and silk chiffon, decorated with dyed leaves from local plants.
Shelter / Shawl. Alpaca wool, merino wool and silk chiffon. Hat of lambs' wool felt.
Earth Peppers / Necklace. Dry felt technique with alpaca wool, merino wool and silk chiffon.