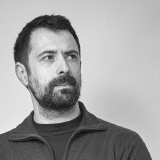 PAULO TUNA
Caldas da Rainha
PORTUGUESE KNIVES
A set of kitchen knives based on the rusticity of traditional craftwork knives. Each one is unique and combines simplicity with efficiency, and their design still keeps the roots of a people and their relationship with everyday utensils.
They are made entirely by hand, the stainless steel for the blades is supplied by a local cutlery factory and the craftsman afterwards carefully crafts it in the workshop so that the blades are of the highest possible quality. The three knives are protected by a calfskin and sheepskin sheath, carefully made by a young craftsman.
Some steps in the manufacture of these knives: the blade is designed in steel; cut and rough ground until the shape is right; standardised in the forge; stamped with punch and hammer; returned to the forge to a temperature of 1080ºC and immediately cooled in oil for tempering; the blade is sanded and polished tempered at 180°C to give the steel elasticity; sanded again; sharpened, polished, the handle is shaped and fitted; re-sharpened until ready.